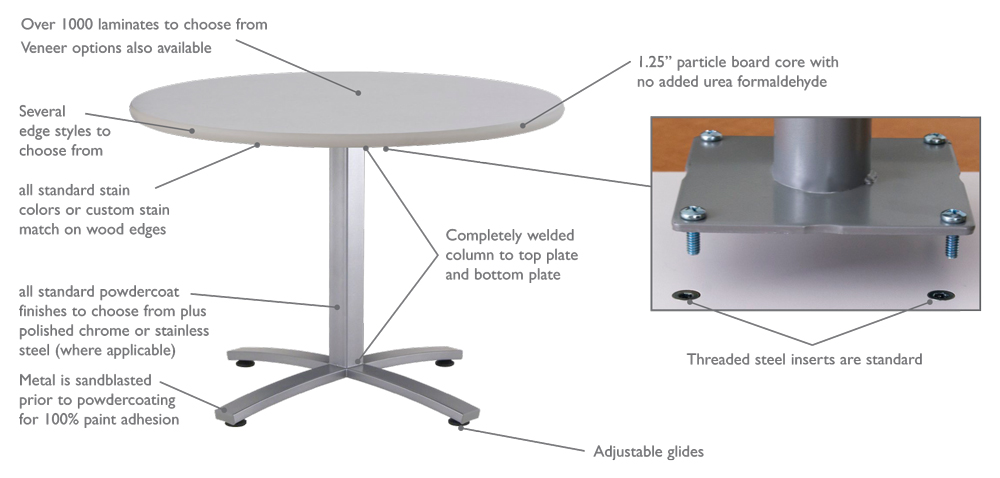 Our "top to base fit" guarantees the strongest table. All tabletops are shipped with pre-installed metal inserts to attach the base to the top with four machine screws. NO WOOD SCREWS ARE USED (wood screws will loosen over time and weaken the strength of the top as they are inserted directly into the wood core).


Our Tabletop core material has no added urea formaldehyde. ERG complies with the California Air Resources Board (CARB) regulations and is CARB Phase I and Phase II compliant.


Our factory uses ONLY 100% water-based products, including stains, lacquers, and adhesives.


All welds are hand brazed and polished smooth. ERG gives you a truly complete one piece metal base. This means that you do not have to assemble the top plate, column and bottom base together as we have assembled and welded it for you.


ERG sandblasts ALL METAL COMPONENTS including Table Bases which gives you the best powdercoat paint adherence in our industry!


Most of our Table Bases have adjustable glides. These specialty glides allow table leveling on the most uneven of floors.


We are so confident in our packaging department that we GUARANTEE safe delivery 100% of the time. If you have ANY freight damage, ERG replaces the furniture Free of Charge. You do not need to handle freight claims! This is ERG's hassle-free freight Guarantee.


We build Contract Quality Furniture, and we build it to last a lifetime!