The field of education is constantly evolving, in today's classrooms students are conditioned to value working together over going solo. In primary school, desks are typically clustered together in pods to encourage interaction and group work—a practice that typically follows students through higher education with mandatory group projects. Similarly, in the workplace, the ubiquitous open office prompts workers to be in constant contact, not great for focused individual work.
While it is important to instill cooperation among students and professionals, educational spaces also need to foster individual thinking and embrace those who crave privacy. When it comes to designing educational institutions, it can be a struggle to accommodate the full range of learning styles. Furniture manufacturer ERG International, recognizes the need to transform these otherwise static spaces and encourages institutions to shift accordingly to fit ever-changing educational needs.
As teaching methods evolve, the physical environment where learning takes place must change, taking into account introverts, as well as students with elevated stress, anxiety, or learning disabilities. ERG, a leader in furnishing education spaces, focuses on personality types that offers furniture with seemingly endless options like privacy panels for focus and privacy, casters or rocking chairs for mobility, higher seating for writing, or modular seating for collaboration. The range of options allows clients and designers to curate a space that suits the needs of virtually any learner.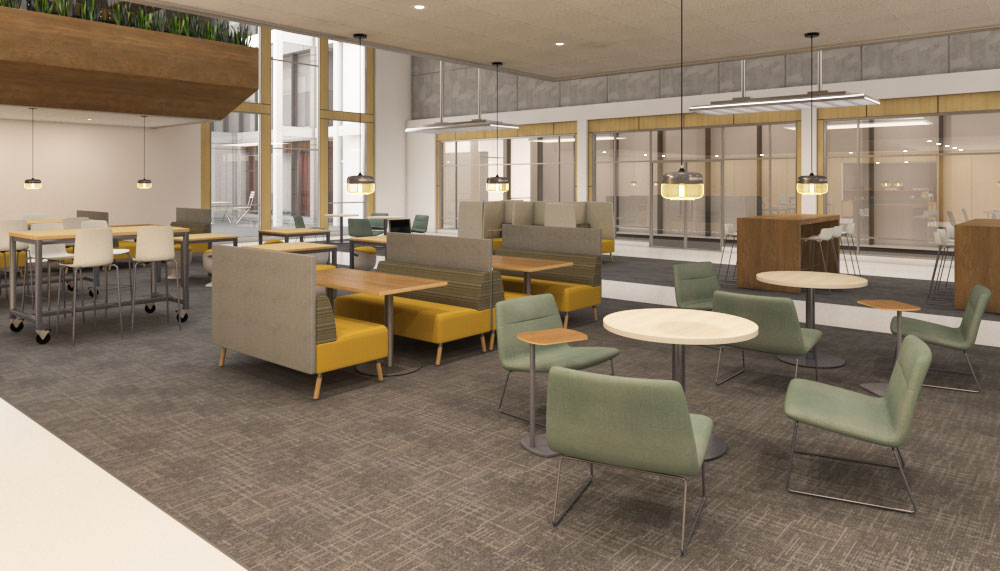 A higher education space that incorporates multiple seating options from ERG International. Courtesy ERG International
Having a breadth of sustainable options to cater toward varying needs is particularly important in an age where technology allows students to have more autonomy over their education. Students no longer have to subscribe to a systematic method of learning that doesn't necessarily work for everyone. "On an awareness or public educational level, it's our belief that everyone involved in a student's education can benefit from how space and furniture can make learning environments more inclusive," says ERG regional sales manager, Anissa Scroggin.
To ERG, an ideal common room is an inclusive space where those of all personality types and learning abilities feel welcome, whether it's a design for kindergarten classroom, high school library, or college campus. In a student lounge area, for example, students can find refuge in a more private sector of a room in ERG's Laguna hide-outs, which offers  the high walls for more focused learning. The common space can also include the standing height Oslo table for those who enjoy working in a social setting, or Darby lounges with Capri laptop tables to facilitate small group collaboration on projects.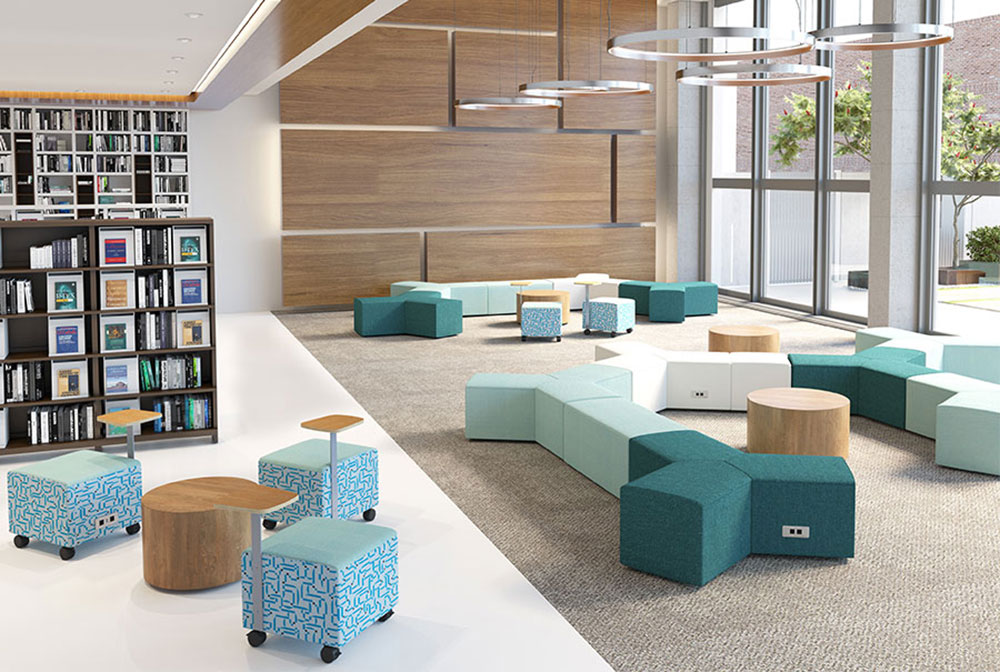 A student union facility that includes plentiful open seating options for collaboration from ERG International. Courtesy ERG International
ERG's expertise in hospitality and higher education provides the versatility to allow an individualized design approach at the highest quality of finishes and material. Their assortment of furniture options can easily suit different styles and accommodate the needs of both college campuses and early learning environments. "We are truly a company that wants the best solution for any given application, so much so that our design department has worked on many furniture modifications for individual projects that have eventually found a spot in our standard offering," explains Scroggin.
There is a growing need for designers and manufacturers to create spaces that account for students on the Autism spectrum, introverts and students dealing with various high stress and anxiety disorders. Designers can meet these needs by working different furniture types and seating options into their design, such as calm-down spaces, cafés, or common rooms. ERG's diverse catalogue is positioned to be a framework for designing inclusive education spaces that consider students' individual learning styles. "Not a lot of people are having this conversation yet, but we think it's relatable and relevant. It truly illustrates why we need a wider range of furniture types and environments," Scroggin tells Metropolis.